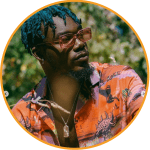 Enjoy the full lyrics of one of the singles off the EP: Ghetto Luv
Ghanaian Afropop/R&B singer, songwriter Raphael Camidoh Kofi Attachie, popularly known in showbiz as Camidoh embrues lovely fans with a new EP (Extended Playlist).
This newly release EP count his first touch project for this 2023. Not forgotten, Last year was his year as he was globally heard by his hit-song sugarcane featuring Mayokun, Darkoo and King Promise.
This new EP (Extended Playlist) from the sugarcane hitmaker is Tagged: A Lifetime Is Not Enough. the project includes six(6) songs: Free me, Adoley, Like You Make It, Ghetto Luv, All Yours and the last one Do Me.  Enjoy the full lyrics of one of the singles off the EP: Ghetto Luv
Ghetto Luv
You, yo-yo-yo-yo-yo
Yeah, yean
You, yo-yo-yo-yo-yo
Yeah, yeah
Midoh, Midoh, Midoh, Midoh It dey do me like you take me go shafa, shafa, shafa
Eh ah, yeah
It dey do me like you take me go gbala oo, go gbala oo
Eh
ain't seen nobody move it like you, your body shape like tomato
I want to dey dance to your groove, I want make we dance to your groave
Oh no, me l'm gonna make you my boo Shey if I show you ring, you'll tell me lao
Let's create this beautiful thing they call love
I want dey show you ghetto love love
Tove love
Love love love
Baby, make I show you gnetto love love love love
Love love love love
Bosoe
Dance eh
Oh yeah
Get jiggy with me baby, get freaky with me baby
1 dey crave you so much, I dey want you right now, now, now
Get dirty with me baby eh, go round with me baby eh
I want show you why them dey call me goat
Ah, ou-uu
Let me be your baby, ba-baby
And I'| never leave you
Make me the fun type, just one time, just one time
I ain't seen nobody move it like you, your body shape like tomato
I want to dey dance to your groove, I want make we dance to your groove
Oh no, me l'm gonna make you my boo Shey if I show you ring, you'll tell me I do Let's create this beautiful thing they call love
1 want dey show you ghetto love love love love
Love love love
Baby, make I show you ghetto love love love love
Love love love love